Revlie Schuit
challenged me and others to scrap today - February 2nd - and use Scenic Route goodies. I love SR paper, so that shouldn´t be a problem. I think it are the pictures that cause me trouble. I did make lots of pictures today, but I am not convinced that the pictures will make a nice lay-out. Fortunately I have another 12 days to come up with something nice. Here is one of the pictures I took today.
As Sandra received her photo swap today I can now post the lay-out. Fortunately she liked what I created for her. Without knowing I created a lay-out in her style....clean & simple. The circles on the chipboard star were inspired by
Brigitta
.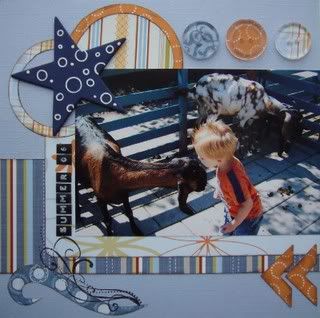 And here is the lay-out that Sandra made for me. Thanks, Sandra!